In vitro models of lymphoid malignancies with spatial omic readout - for improved precision medicines
Principle Investigator Sara Ek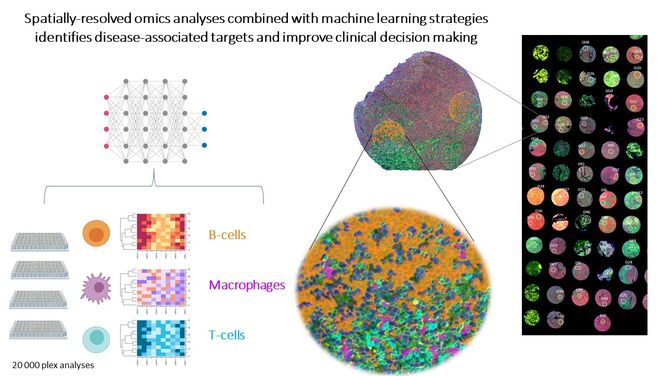 Recent technological advancements in spatially guided proteomics and transcriptomics will accelerate precision medicine initiatives and enhance biological understanding in an unprecedented manner. Are you interested in the development of in vitro tumor immune microenvironment (TIME) 3D models adapted for spatial omic read-out? Come and join us and contribute to projects dedicated to developing tools to assess the biology of response to treatment in lymphoid malignancies.
3D models are important tool to assess the biology of response to treatment during the development of drugs, and to acquire deepened knowledge about the mechanisms of action also for approved regiments. 3D models combined with spatial omics, which can measure the proteomic and transcriptional characteristics of individual cells in a complex sample, can advance precision medicine efforts. Deep understanding of cell-to-cell communication is pivotal for progress of cancer research, as most modern immunotherapeutic treatment approaches target such interactions in the TIME. Spatial transcriptomics, recently acknowledged as Method of the Year by Nature journal, allows for highly parallel investigations of the proteome and transcriptome profiles. Sweden is well positioned with high-quality patient samples coupled to information from national patient registers, which constitute a major opportunity for scientific breakthroughs in medical research. Translational research addressing these questions is a multidisciplinary effort that requires close collaboration between different actors and professions. Thus, clinicians, pathologists, pre-clinical researchers, technical experts, and bioinformaticians share information that collectively explains the connection between molecular traits and patient outcome in the proposed project.
We are seeking a postdoc with knowledge in cancer biology/immunology and with hands-on experience of cell culture and development of organoids, spheroids and/or 3D models in cancer. The purpose of the project is to establish 3D model of B-cell lymphoid malignancies with the purpose of subsequent investigations of the molecular response to approved and candidate drugs. To ensure success, the candidates will be supported by multidisciplinary project teams, experienced in translational oncology research and with access to high-end infrastructures.
Partners: Clinical oncologists and pathologists at Skåne University Hospital.
Requirements:
PhD in cancer biology, immunology or similar. Experience in cell culture, tissue handling/preparation and 3D cancer models is a requirement. Experience in image analyses, and/or bioinformatics of large patient datasets is a merit.